Travel information
09 July 2020
From Budapest take motorway M3, exit near Füzesabony and take national road 33 towards Tiszafüred/Debrecen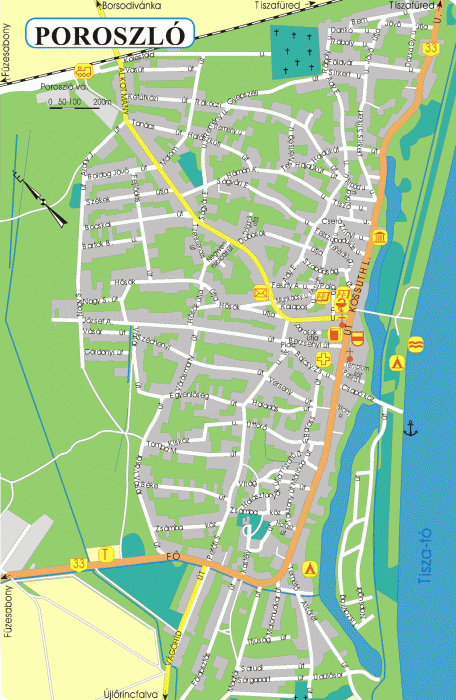 Travel Information-By car
From Budapest take motorway M3, exit near Füzesabony and take national road 33 towards Tiszafüred/Debrecen
From Szolnok take main road No. 4, follow on No. 34. When you reach Tiszafüred, take road No.33 to Poroszló.
From Debrecen take road No. 33. until you arrive at Poroszló.
From Miskolc first take road No. M30 then motorway M3 towards Budapest. Leave at exit No. 128, drive towards Borsodivánka and soon after you will reach Poroszló.
GPS coordinates to the main entrance:
N 47˚ 38.780'
E 020˚ 39.669'
Parking
You can find a car park for 72 passenger cars near the main entrance. Parking is free for visitors. Buses are not allowed to park here! In case you find it full, please drive on to the next (paying!) car park at Gate II.
Tourist buses can be parked in the car parks next to road No.33 in centre of Poroszló or in the (paying!) parking lot near Gate II. See Map.
GPS coordinates:
N 47º 38.617'
E 020º 39.387' 
By Bus
There are regular direct bus services to Poroszló from the main cities Budapest, Eger, Szolnok, Debrecen, Miskolc.
By train
You will reach Poroszló train station with transfer at Füzesabony from direction Budapest and Miskolc.
Direct service without transfer is available from direction Debrecen.
The schedules of both ways of transport (buses and trains) are available here (in Hungarian language):
http://menetrendek.hu/
By bicycle
is worth taking your bikes to Poroszló! The excellent asphalt road on the 2-3-metre-high dam takes you all around the lake. It is part of the Eurovelo 11 International Trail crossing Europe from Norway to Greece. You can choose between the short trail (70 kilometres) and the long trail (120 kilometres) and enjoy the lovely scenery: the water surface, the islands and the flooded woodland.